Mar
26
During World War II, the Germans widely used several variants of the Enigma machine, which was actually created by a Polish inventor. This same Polish inventor helped the British with their famous project to crack the Enigma, and run by Alan Turing and centered at Bletchley Park.
The basic theory of the Enigma was that you had a number of wheels that had contacts on each side. If you picture a donut, think of sprinkles on both sides and you've got the basic idea. Now, if you connect a sprinkle on one side with a sprinkle on the other, but don't go straight through the donut, you get a degree of obfuscation.
Stack three donuts side by side. The analogy goes a bit awry here, because imagine that we assign each of the sprinkles on each side a letter or number. We pick the letter we want to encode on the left donut, and then run a current through that sprinkle, and you get a current coming out in a pseudo-unpredictable sprinkle on the donut on the right, corresponding to the encoded letter or number. Each time you do encode  a character, you rotate the donuts one step. The outer donuts you rotate towards you, and the inner one away. Now run the next current through. That's how an Enigma works. Here's an exploded view of an Enigma machine rotor, created by Wapcaplet in Blender.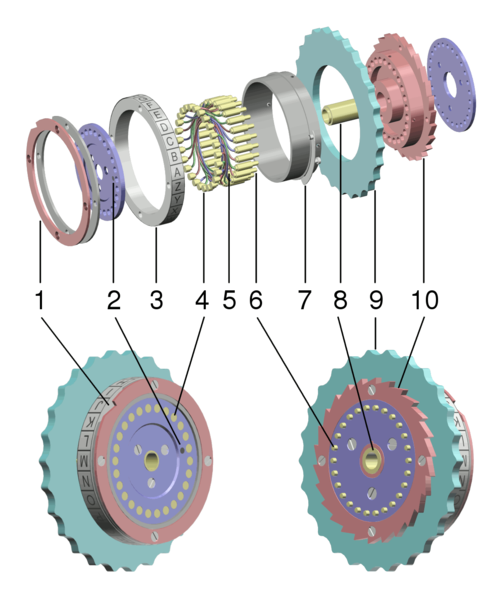 Later versions of the Enigma added a fourth rotor, and some used reflection, which ran the signal back through the rotors once it reached the right hand side.
If you want to try your hand at an Enigma, and don't want to machine one yourself, Mike Koss has created a nifty paper Enigma for you to try.
Comments
Comments »